Lulu's Public Secrets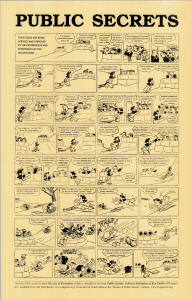 Click the above image to make it larger,
then click THAT image to make it more readable.
Click the above images to make them larger.
---
January 1998. Publicity for Public Secrets: Collected Skirmishes of Ken Knabb. Published both as an 11″ x 17″ poster (1500 copies) and as a four-page brochure (7500 copies). The text consists of passages from the book (primarily from The Joy of Revolution). The top image is a reprinting of the poster (2000 copies) for distribution during the Occupy movement of 2011-2012.
No copyright.
Turkish translation of this comic