We're Tired of Playing with Ourselves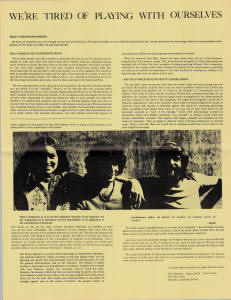 Click the image to make it larger,
then click that image to make it readable.
---
June 1973. Poster by Isaac Cronin, Dan Hammer, and Jeanne Smith. Hundreds of copies were posted in the Bay Area along with Ken Knabb's comic-poster Reich: How to Use. For an account of this and related adventures, see this chapter of "Confessions of a Mild-Mannered Enemy of the State."
No copyright.